Projects That Make a Difference
Capital Development is hard at work with our partners to proudly transform the airfields and terminals at PHL and PNE airports. We are committed to making PHL the region's world-class global gateway of choice through capital improvements that improve the customer experience from arrival to departure, modernize and enhance existing infrastructure, expand capacity, and improve overall efficiency. A few of our recent notable projects include the PHL Restroom Renovation Program, the Passenger Boarding Bridge Upgrades and the new and improved Pedestrian Safety Enhancements on the Airport's Roadways. For up to date project news, visit us here.
PHL Restroom Renovation Program
As part of our continuous commitment to enhancing the guest experience, Philadelphia International Airport (PHL) has been modernizing 48 sets of passenger-facing restrooms since 2012. Goals of the renovation program include improving quality and comfort, accommodating more travelers, expanding accessibility for persons with disabilities and implementing sustainability measures. Learn more here. 
Departures Road Barrier Wall and Trench Drain Improvements
Departures Road Barrier Wall and Trench Drain Improvements - February 2020
PHL is committed to providing the best customer experience possible to those traveling to and from the airport. Though travelers may not notice a trench drain on the side of the road, it can quickly become an issue if the drain isn't working and/or causing water build ups on the roadway. Barrier walls also have an important role to play, helping to keep drivers safe as they move along the Airport's roadways. That's why PHL takes preventative action by improving these important yet overlooked features. PHL's priority is safety – always.
The Project
This project improved the drainage structure along Departures Road, one of the main roads utilized by PHL travelers. It also improved the aesthetic and structural integrity of the barrier wall that runs along the road's entire length.
The Work
The construction was broken into four (4) 1,000 ft. phases to limit disruption to the traveling public. Each phase included:
Trench drain trough (a channel used to convey liquid) demolition and frame repairs
Roadway pavement restoration
Barrier wall spall (splinter or chip) and crack repairs
Application of penetrating sealer and acrylic coating to the barrier wall
Due to construction, the left lane of the roadway was temporarily closed, reducing Departures Road to three travel lanes. Fortunately, the lane closure had no major impact to travelers other than slight congestion during the peak periods around the holidays.
The Result
At the end of the project, the integrity of the barrier wall was restored and the trench drain was improved to extend its lifespan. These improvements enhance safety and the guest experience for all visitors at PHL.
Capital Development Team
Vincent Adamo (DOA) – Project Manager
John Carollo (Michael Baker) – Resident Engineer
Keith Blackwell (DOA) – Inspector
The Contractors:
Rockport Construction Company, Inc. – Prime Contractor
Tierra Construction Services (Field Labor/Trench Installation)
Gracie Painting, LLC (Furnish Sealants and Coatings for Barrier Walls)
DeVault Group Inc. (Ready Mix Concrete)
Cast Construction Inc. (Furnish Trench Materials)
Formwork for Back Wall of New Trench Drain
Demolition of Existing Roadway and Trench Drain Walls
New Concrete Back-fill of Trench Drain
Finished Barrier Wall Coat and Restored Roadway
Terminal A-West Check Baggage Inspection System Recapitalization Project
Terminal A-West Check Baggage Inspection System Recapitalization Project - January 2020
Bags Coming Through!
Terminal A-West Check Baggage Inspection System Recapitalization Project
Philadelphia International Airport (PHL) is committed to making sure our travelers feel safe and worry-free while visiting PHL and ensuring our services are reliable and efficient. The Terminal A-West Check Baggage Inspection System Recapitalization Project is something most travelers wouldn't personally encounter, yet it will improve the speed, accuracy, and reliability of the baggage handling system. This translates into travelers' bags getting where they are supposed to go efficiently and safely.
The Project 
Completed upgrades include the demolition and alteration of existing baggage handling systems in Terminal A-West, the construction of a new 2,500 square foot Checked Baggage Resolution Area (CBRA) as an annex to A-West, the addition of three upgraded explosive detection system machines (called CTX 9800), and the renovation and consolidation of the Baggage Handling System Control and Threat Containment Unit Rooms.
The Work
The work included design, engineering, fabrication and construction of a complete recapitalized Check Baggage Inspection System in Terminal A-West. In the CBRA, site-work included the demolition of existing concrete pavement, placement of piles and pile caps, construction of masonry walls and precast concrete roof panels, as well as the installation of roofing and application of interior finishes and equipment.
Electrical and mechanical work was phased, at times, simultaneously as defined by the project schedule. Electrical improvements incorporated fire alarm, closed-circuit television (CCTV), security and special system infrastructure to support the new baggage inspection area. Mechanical improvements included HVAC, plumbing and controls infrastructure to support the construction of the new CBRA. Similar electrical and mechanical systems were extended to the A-West ticket lobby. Those changes accommodate the replacement of explosive detection system machines by the Transportation Security Administration (TSA) and the expansion of the existing baggage handling system into the new adjacent CBRA.
The Result
This behind-the-scenes project has minimal impact on travelers, or gates, and is designed to improve the baggage handling capability immediately and for years to come. This Recapitalization project is scheduled for completion in February 2020 and will improve all facets of the baggage handling system in A-West, and the baggage threat resolution capability of the TSA.
Capital Development Team
Imad Haq (DOA) – Engineering Manager
Thomas Joseph (DOA)– Assistant Engineering Manager
Jeff Tubello (AECOM) – Project Manager
Dwain Thomas (KS Engineers) – Resident Engineer
Daniel Drumm (Arora) – Special Systems Inspector
Keith McCall (Arora) – CCTV Inspector
Joseph Donnelly (McKissack & McKissack) – Inspector
Robert Hall (Delon Hampton) – Document Controls
The Contractors
VRH Construction Corp. – General Contractor 
E. J. Electric, Inc – Electrical Contractor
Surety Mechanical Services, Inc. – Mechanical Contractor
Jervis B. Webb Co. – Baggage Handling System Contractor
 
Original A-West Dock
CBRA Addition Foundation to A-West
Finished CBRA Addition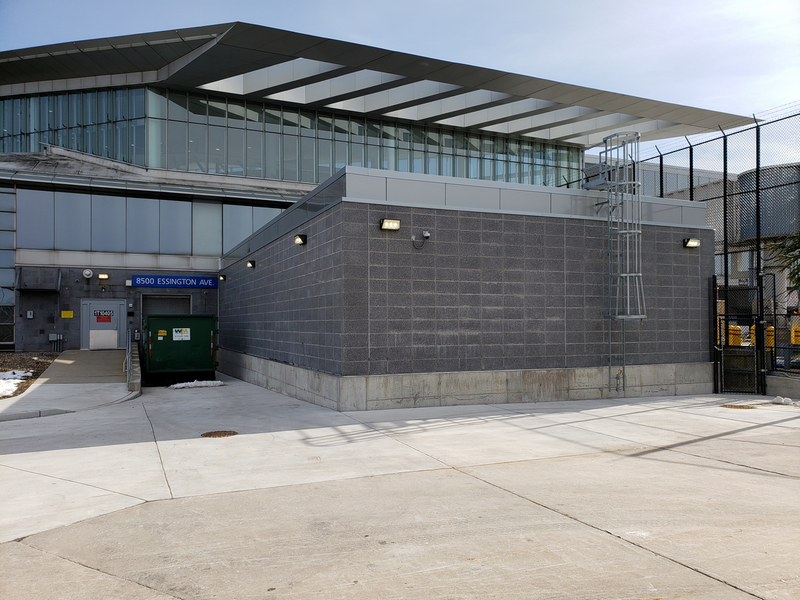 Removing & Installing New CTXs
PNE Runway Strengthening - December 2019
The History
Northeast Philadelphia Airport (PNE), together with Philadelphia International Airport, is part of the Philadelphia airport system. The reliever airport, used primarily for general aviation and corporate flights, occupies 1,150 acres in the northeast section of the City of Philadelphia. It has two runways and averages 215 based aircraft, dominated by single engine aircraft, as well as twins, jets, turboprops and helicopters. Since PNE plays an important role in Philadelphia's regional aviation needs, runway maintenance is vital to the region's aviation needs.
The Project
Northeast Philadelphia Airport (PNE) is served by two runways namely Runway 6-24 and Runway 15-33. Runway 6-24 at PNE accounts for approximately 60 percent of PNE traffic.The pavement investigation revealed that the runway had severe distresses in the asphalt layers and reduced capacity particularly at the end of Runway 6-24 due to poor sub-grade conditions.  The pavement required strengthening to serve aircraft such as the B737 and A319.   
PNE is a "reliever" airport for PHL and a major General Aviation in the Northeast region, which requires minimal shutdown of the Runway 6-24. This challenge of increasing the pavement strength and minimizing the "downtime" of the runway resulted in developing a unique approach which has not been used at this airport prior.   
The Work
This project included Runway 6-24 pavement improvements and re-configuring the geometry of Taxiway L and how it connects to the runway. The completed work conforms to current FAA criteria including depth pavement reconstruction, airfield lighting relocation and its associated electrical work and pavement markings.The Division of Aviation's (DOA) approach was to strengthen the sub-grade by mixing it with cement to minimize import of materials and expedite the construction process. The strengthening of Runway 6-24 lasted from April 2019 through October 2019.
The Result
Hauling trips were reduced by reusing existing materials, saving over $300,000 for this Package and is expected to save approximately 17,000 gallons of gas for the $7M project. There are two remaining Packages scheduled to commence in the Spring of 2020, which are expected to yield a net savings of $1.1M and over 50,000 gallons of gas. In addition to the above, this method also  resulted in reducing the construction duration of the pavement from six months to under four months.
Capital Development Team
Amna Ali, PMP, (DOA)- Project Manager
John Pedley, (HNTB)- Construction Manager
John Brewer, A.A.E., - PNE Airport Manager
Sanjay Chaudhury, P.E. (ATKINS)- Design Lead
Frank Thomas (AECOM)- Resident Engineer
Contractors
ATKINS (Prime Contractor)
Airport Planning Design Management Inc. (ADCI)
Sci-Tek Consultants Inc.
Chilton Engineering
Faithful and Gould
Runway 6-24 MALSR Threshold Bar Trench
Runway 6-24 Sub-Grade Preparation
Runway 6-24 Touch and Designation Markings
Runway 6- 24 Center Line Paint Markings
Safety Series Part 2: Ensuring Pedestrian Safety
Safety Series Part 2: Ensuring Pedestrian Safety - November 2019
The Project
Ensuring pedestrian safety at road crossings is always a concern at busy airports. At PHL, Arrivals Road and Commercial Road (also known as Commercial Vehicles Road) are two areas with substantial pedestrian activity. The amount of foot traffic has increased enormously along these roadways due to the addition of new airlines, expanded rideshare services and increased demand for passenger pickup courtesy shuttle buses. As a result, additional pedestrian safety measures were needed.  
A 2015 evaluation of pedestrian safety systems found that PHL would benefit from improved pedestrian crossings at existing crosswalks with two types of light systems. The project designers were tasked with designing in-pavement roadway warning lights systems along Arrivals and North Commercial Roads. Both roads have high volumes of vehicular and pedestrian traffic, while South Commercial Road has solar powered flashing LED sign systems. In addition to the lighting, North Commercial Road's pavement was showing areas of severe deterioration due to aging. Rehabilitation included two-inch depth mill and overlay operations along with pedestrian curb ramp improvements to meet current PennDOT and Americans with Disabilities (ADA) requirements.
The project was expanded in 2018, after airport Properties and Operations departments made logistical changes to courtesy shuttle bus pickup locations on North and South Commercial Road. The changes included re-striping and painting parking stalls and loading zones, adding a lay-by-lane for taxi pickup at B Baggage Claim, and installing bus shelters.
The Work
The construction consisted of pedestrian safety enhancements in three phases between Arrivals Road, North Commercial Road and South Commercial Road. Site work took place during the day, while heavy construction occurred during off-peak night time hours to avoid traffic lane closures, excess noise and other inconveniences to airport users.
An additional lay-by-lane for taxis was also added to alleviate traffic congestion along the north side of Commercial Road where the taxis are lined up. This phase was completed in August 2019.
After collecting bags, passengers must cross the South Commercial Road to catch rental car shuttles and van services. Additional bus shelters with benches and solar powered LED lights were included in this project to protect passengers waiting at these designated zones. 
Additional pavement distress was observed along North Commercial Road, particularly at areas that experience increased tire pressure. Evaluation and full depth restoration were done for these areas, as needed. Permanent loading zones will be added along Commercial Road to provide door-to-door service for loading and unloading of passengers.
Currently, solar panels with LED flashing pedestrian crossing sign system are being installed along with bollards on both sides of the crosswalks on South Commercial Road. Due to the continuous high volume of traffic along Arrivals and North Commercial Road, the LED lights will continuously flash and will be grooved into a housing inside the pavement.  
The project is anticipated to be completed by December 2019.     
The Result
The pedestrian safety enhancements provided by this project place a new emphasis on pedestrian safety at PHL and improve the overall safety and use of the airport's roadways. The new crossing sign system will provide additional visual cues for drivers to be aware of pedestrian crossings, will encourage pedestrians to use the crosswalks that are clearly identified with lighted signs and pavements, and will establish additional loading zones for mobility-impaired travelers.
Capital Development Team
Craig Hinton (DOA) – Engineering Manager (former)
Imad Haq (DOA) – Acting Engineering Manager
Julie Coyle (HNTB) – Project Manager
Sobi Babu (DOA) – Resident Engineer
Chris Juhaz (Michael Baker) – Project inspector
The Contractors
Prime Contractor – AP Construction Inc.
Construction Manager – Ryan Shaw
Design Team: RS&H, ADCI
Standard solar powered LED flashing crosswalk sign system – active at night
(South Commercial Road)